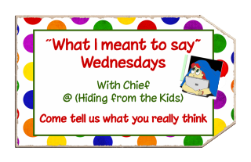 Now THIS?? THIS is a blog carnival I can wrap my pea brain around. I can say exactly what I want to say to the immature, crazy, people that I come in contact with every day??? PICK ME, PICK ME!! I want to play...
So, play along (or not)...but, it is sure to be fun.
Without further ado...
At a staff meeting yesterday as the VP was talking about needing to notify parents if their child is in jeopardy of failing and veered off on a strange path and began discussing bunnies and spring...after an awkward laugh and a roll of my eyes to a coworker...what I meant to say is "Are you freakin kidding me? We are talking about bunnies hopping and spring in a staff meeting? THAT is 45 minutes I will NEVER get back again. Please, please, please don't waste my time with your bunny nonsense."
Oh feels so good...you really should try this people...
NEXT, while on the good book (facebook) and catching up on all my friends and reading all the status updates to be well informed as to the happenings (it is my nightly news...really it is). I begin to read update upon update about how great people's spouses and kids are...with a small gag reflex at someone telling me that their husband is the best ever that THEN led to an out and out war between three people as to who had the best husband??? My facebook response was..."aww how sweet." What I meant to say is..."I want to jam pencils in my eyeballs from all this nonsense about how great your spouses are. I get that they are wonderful and all but, please do that privately...why not just start awkwardly making out on facebook...GEEZ!!! GET A ROOM!!"
Ahhh, one more down...I could get used to this...
To the concerned parent who called me to report that her child was getting two F's and all she cares about is her friends and her phone and what was I (the counselor) going to do about it? My response was..."I appreciate your concern and hope we can work together to get little "Jane" on track. Clearly, you see the importance of her education and want to do whatever it takes to help her to be successful....blah blah blah" NOW, what I meant to say..."Take away her stupid phone, you moron, and keep her home UNTIL she finishes her homework...oh ya, and maybe, just maybe, you might want to look at her being on the cheer squad as a distraction? I don't know...just sayin'. I am only a counselor...my job description no where states that I am a surrogate parent...if she didn't come out of my hooha...I can only do so much!! I mean...seriously!!"
Oh my goodness, that felt so good. I can totally get on board with this carnival. LOVE IT...Thanks Chief!!!